Apartment Dolina jezer (2 + 1 people)
Apartment
The apartment Dolina jezer / Lakes Valley (2 + 1 people, plus the possibility of installing two cots) of 46 m2 is a spacious apartment for three adults or a family with children. It represents the famous valley of Seven Triglav Lakes, which applies to the heart of the Triglav National Park that any real hiker should visit.
In a separate bedroom there is a double bed with two high quality mattresses. The bedroom has enough space for 2 cots, which we can provide free of charge (dimension: 60 x 120 cm), so the apartment is suitable especially for families with small children. Additionally we've installed a high quality foldaway bunk bed for two persons, which is suitable for both children and adults. In the living room, there is a leather sofa that can be easily converted into a comfortable single bed. In the heat of the summer you will be cooled by air conditioning. Wi-Fi is available for either your laptop or tablet.
Make sure you also enjoy the balcony: during the summer it is the perfect place to sun bathe, while during winter time one can admire snow covered forests.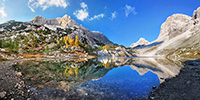 Triglav Lakes Valley (on photo: The Large Lake)

In the very heart of the Triglav National Park lies the valley of seven Triglav lakes. Triglav Lakes Valley is unique for its beautiful scenery with high rock faces, karst landscape and is plentiful with alpine flora and fauna.
Available
Check-out Available only
Not Available
October 2023
Sun
Mon
Tue
Wed
Thu
Fri
Sat
01
02
03
04
05
06
07
08
09
10
11
12
13
14
15
16
17
18
19
20
21
22
23
24
25
26
27
28
29
30
31
November 2023
Sun
Mon
Tue
Wed
Thu
Fri
Sat
01
02
03
04
05
06
07
08
09
10
11
12
13
14
15
16
17
18
19
20
21
22
23
24
25
26
27
28
29
30
December 2023
Sun
Mon
Tue
Wed
Thu
Fri
Sat
01
02
03
04
05
06
07
08
09
10
11
12
13
14
15
16
17
18
19
20
21
22
23
24
25
26
27
28
29
30
31
Select a Check-in and Check-out Date